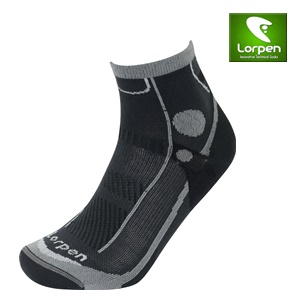 T3 TRAIL RUNNING ULTRA LIGHT (X3UM17)*
HEIGHT: Shorty CUSHION: None
CONTENT: 40%PolyesterCoolmax®,
35% Lyocell Tencel®, 15% Nylon, 10% Ea. LYCRA®
Maximum T3 performance
in temperature and moisture management for trail runners
who prefer thin socks without a terry loop. Malleolus and blister protection thanks to its continuous linear structure that adapts perfectly to each foot.
*Both models have the men and women version.
Lorpen´s Spring Summer 2017 collection presents its renewed T3 technology, offering the most technical socks of the market. The new T3 technology is based on the development and technical optimization of our T3 structure, retaining all the advantages of the T3 and adding additional features in order to ensure total comfort for the most extreme sports or activities.
Lorpen's exclusive new T3 technology presents the following characteristics:
STABILIZER WRAP: This integrated support keeps the sock perfectly aligned with the foot, without it sliding or turning, eliminating unevenness and wrinkles.

REINFORCED VARIABLE CUSHIONING PROTECTION: Unique combination of variable cushioning structures tailored to each sport, reinforced with a nylon outer to ensure the durability of the sock and the comfort of the wearer.

MALLEOLUS PROTECTION: Cushioning and reinforced structure that protects the malleolus, relieving pressure generated by impacts and protecting it from friction.

VENTING AREA: The open mesh structure helps to cool during exercise, giving the foot a sensation of natural coolness.

ARTICULATED AREA: Structure that allows greater freedom of movement, helping to prevent bunching up.

DYNAMIC LINE: Continuous linear structure that surrounds the sock, adapting it perfectly to the athlete's foot.
Since this season Lorpen is collaborating with Ueli Steck in order to develop the best technical Socks in the market.