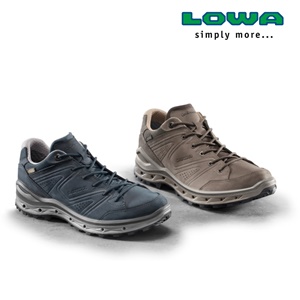 A breath of fresh air on a shoe wall is what the new AERANO GTX® and the AERANO GTX® Ws provide. Both feature the breathable, waterproof GORE-TEX®-SURROUNDTM-technology.The All Terrain Classic model follows a more minimal design approach. The result is a hybrid outdoor shoe that is also perfect for everyday use.
Enjoy taking a breath with the AERANO GTX® as well as the women's version, the AERANO GTX® Ws. That's because this multifunctional shoe features a direct injection-moulded sole on an ingenious system of air ventilation channels that always offers optimum foot temperature management. But it is not only the innovative GORE-TEX®-SURROUNDTM technology that lends maximum comfort. The integrated nubuck and smooth leather also offer perfect characteristics for always keeping feet comfortable and happy. Add to that the cushioning midsole made of LOWA DynaPU®. Combined with the stabilising web frame of the LOWA MONOWRAP® construction and easy lacing, this classic all-rounder becomes a perfect companion. With it, you are ready to go for spontaneous adventures outdoors as well as for long urban rambles or even getting to work each day.
Lightweight, flexible and above all else comfortable are the key attributes that any multifunctional shoe must offer. However, to ensure you can really go anywhere in them, the design should also be somewhat understated. And that is precisely why the AERANO GTX® Ws and the AERANO GTX® attract attention for their maximum function and otherwise do not stand out unnecessarily.