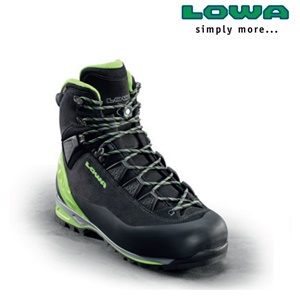 Passionate alpinists must be able to rely on their footwear 100 per cent on any terrain. And the ALPINE PRO GTX® isn't just a perfect companion. The leather version of this highly technically
engineered boot also masters the hardest challenges with bravura. The difference? The ALPINE PRO GTX® LE is made of split leather and thus is even more durable on crags.
One of LOWA's trademarks since Day 1 is the combination of traditional shoemaking with modern materials and technology. Accordingly, the newest generation of outdoor boots fulfils even the highest demands on athletic products. Although the new leather version weighs a little bit more, it puts the wishes of outdoor athletes just as much in the foreground. The split leather used is even more durable and takes direct contact with the crag without a whimper. The newly constructed midsole is lower-profile than traditional outdoor boots and thus offers a more stable platform and increased ground sensitivity. A shorter toebox brings your foot closer to the rock and ensures more control and best power transfer. The Vibram® Alpine outsole promises superb grip
whilst integrated cushioning and an anatomical footbed ensure optimum comfort even on longer high-altitude tours.
As always, boots made of split leather are preferred by mountain athletes of all kinds due to their breathability and optimum fit. One reason why LOWA has added the ALPINE PRO GTX® LE to its collection. A modern, minimalist alpine boot that combines traditional values and modern technology in creative ways.