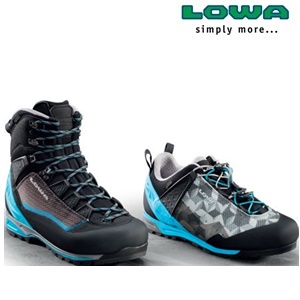 Women are just as ambitious on alpine terrain as their male mountaineering counterparts. So they also need footwear made just for a woman's foot. To that end, both the ALPINE PRO GTX®
Ws and the approach shoe APPROACH PRO GTX® LO Ws are made with a special women's last and do not fall one iota short of the men's models when it comes to comfort, fit and technical performance.
Good footwear plays an overriding role, especially on demanding mountain tours – no matter what gender the alpinist. To ensure women alpinists can perform at their best at any time and can rely on optimum comfort, LOWA makes mountaineering boots and approach footwear that are specially made for a woman's foot.
Thus, both models feature the same technical features, whether men's or women's, although the women's is made on a special women's last that is narrower in overall width and at the heel. With its modern, minimalist design and a multitude of performance details, nothing more stands in the way of bagging the peak. If a woman wants to conquer alpine terrain with less weight on her feet,
the ALPINE PRO GTX® Ws and the APPROACH PRO GTX® LO Ws, both made especially for a woman's foot, are perfect choices. Whether for a demanding mountain tour on rock and ice or merely to get to the next hut, both of these high-end models are totally en vogue in the mountains.