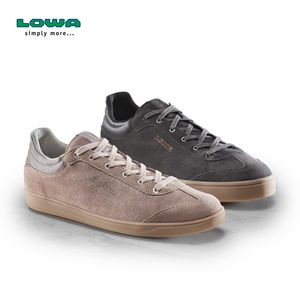 Real trendsetters do not simply wear just any old sort of leisuretime shoes. They prefer to deck themselves out in fashionable retro-sneakers, which, like the new ANCONA Ws and ANCONA, catch people's eye with their look and functions. The casual low-cut shoes made of high-quality full grain leather not only look great, but are also incredibly comfortable. And if you take a really close look at them, you will see traces of the design that was once used in old climbing boots. These shoes offer a stylish retro-look that really makes an impression in urban settings.
LOWA continuously incorporates historical elements into the design of its leisure-time shoes as a way of celebrating its own tradition-filled history. The new lifestyle model ANCONA also includes a few discreet details that are reminders of climbing boot design from the past. They include a padded collar that provides the maximum amount of comfort.
But these retro-sneakers definitely do not live in the past. They employ the very latest know-how – from the upper to the sole. A combination of robust full grain leather, a soft fabric lining and a reduced number of seams provides the highest level of comfort every day. The midsole made of LOWA DynaPU® offers optimal cushioning, while the high-grip LOWA rubber sole provides the best-possible stability on every type of terrain.
The soft sole design creates perfect rolling properties and, thus, optimal comfort for everyday use or the next trip into town. The shoe is topped off by a selection of natural retro-colours, a feature that enables the fashionable leisure-time shoe to be worn with any outfit.
Whether during trips, everyday occasions or work – the casual leisuretime sneakers ANCONA Ws and ANCONA will make quite an impression wherever they go. The shoes' old-school design can be easily combined with the widest range of styles and fashionable accessories. But looks alone do not really matter. That is why the sneaker makes its mark with a full range of functions.
Size: Ws EU 36 – 42 | EU 40 – 47
Weight per pair: Ws (EU 38) 590 g | (EU 42) 750 g.