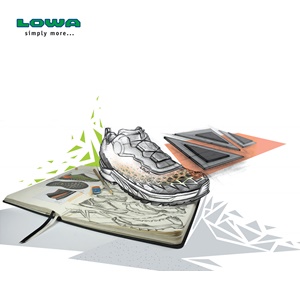 FUNCTIONAL APPROACH BOOT FOR AMBITIOUS MOUNTAINEERS.
Reptiles are not just extremely adaptable when it comes to their habitats. Above all, they are really light on their feet in rocky terrain. These are qualities that the new APPROACH EVO GTX® LO Boa® embodies as well. With this robust approach boot, mountaineers and climbers carry much less weight through the
mountains – without having to forgo any stability and the bestpossible comfort. These qualities are created largely by an innovative concept of unique REPTEX® technology, combined with optimal cushioning delivered by LOWA DynaPU® and the practical Boa® Fit System.
Something that works perfectly for the MID-CUT model has been carried to the extreme for the APPROACH EVO GTX® LO Boa®. The PU scree collar sprayed on the robust synthetic material consists of even finer REPTEX® elements. The innovative Boa® Fit System and the cushioning midsole made of LOWA DynaPU® help the approach boot provide the most comfort possible. The high-grip outsole made of Vibram® Megagrip with its special stud profiles provides optimal stability on every terrain. The best grip is guaranteed as a result. Reduced to its essentials, the futuristic looking approach boot offers a unique combination of
impressive performance and optimal comfort. The waterproof GORE-TEX® lining turns the colourful eye-catcher into a complete mountaineer for hikes to the mountains or for challenging routes leading to the summit.
A functional, comfortable boot with the best-possible grip:
The APPROACH EVO GTX® LO Boa® impresses in every way. While the Boa® Fit System ensures that boots can be easily adjusted during tours, the use of LOWA DynaPU®, a PU foam material developed specially by LOWA, delivers optimal comfort. Reduced to the bare essentials, the light minimalists are the perfect choice for fast mountain tours and short climbing passages in rocky terrain.
Size: UK 6 – 13
Weight per pair (UK 8): 960 g