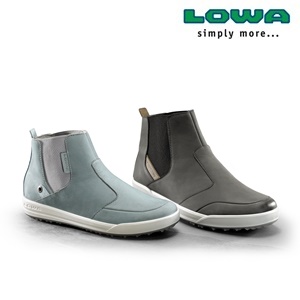 Urban casual design is not just a current trend. In fact, it is the be-all and end-all for fashion-conscious teens, twentysomethings, or even those with a few more years under their belts.
The very combination of outdoor and lifestyle transforms hip apparel and relaxed footwear – like the CADIZ QC by LOWA – to a casual status symbol for an entire generation.
This lightweight yet rugged Chelsea boot with a trendy canvas look has a soft upper with elastic gussets that ensures easy on, easy off. The
upper of the men's model with its waxed smooth leather and a natural leather look also offers soft flexibility. For the women's model, however,
designers used nubuck leather, delicate seaming and feminine features.
Combined with the LOWA Sneaker sole made of cushioning LOWA Dyna-PU®, the CADIZ QC of course offers so much more than just optimum fit. The soft material hugs the foot so perfectly that you nearly forget you have them on. Even on a lengthy city walkabout or for everyday wear, you may wonder if you have shoes on.You don't have to be an avid outdoor enthusiasts or fashion czar to fall in love with the super comfortable CADIZ QC. In the end, this stylish quarter cut model is quite a head-turner, not only thanks to its design but also its function. As it should be for such a trendsetter.