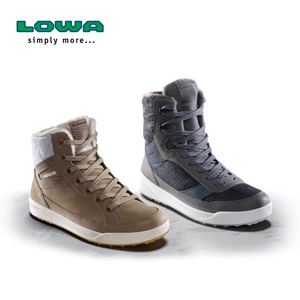 COMFORTABLE LEISURE-TIME SHOES FOR UNCOMFORTABLE WEATHER.
When the weather becomes unsettled, the shoe closet at home will welcome a sporty winter shoe that looks like a sneaker.
With their material mix and stylish design, the mid-cut trendsetters CASARA GTX Ws and SAANA GTX Ws add optical accents to the grey days of winter.
Both models of winter sneakers are the perfect choice for winter strolls in urban settings.
Both models of winter shoes definitely have one thing in common: Doing things halfway is no longer an option when it comes to cold weather.
Thanks to a waterproof and breathable GORE-TEX membrane, the shoe is optimally protected from wind and weather. To keep your feet toasty in frigid cold, the SAANA GTX Ws is equipped with a snug GORE-TEX Partelana lining. In contrast, the CASARA GTX Ws comes with a thinner GORE-TEX Panda lining and is easy to slip on thanks to its side zipper. The high-grip sole, a feature that ensures pleasant rolling characteristics, adds further comfort to both models. The real highlight is and will remain the stylish design. A collar trimmed with loden and laces whose colours are coordinated with the entire look will attract a lot of glances.
Anyone who prefers to scamper through town in winterproof sneakers instead of plodding through it in heavy winter boots will profit in two ways from the CASARA GTX Ws or the SAANA GTX Ws. The mid-cut winter shoes are comfortable, and the casual look fits perfectly into city lifestyles.
Size: UK 3.5 – 9
Weight per pair (UK 5): 700g | 770g