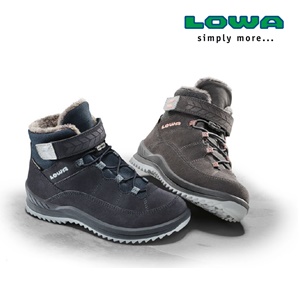 Of course, in reality, little fairies and elves are usually barefoot. But in the winter, it can get too cold even for these little creatures. So, it's a good thing there's a shoe like the new FATINA GTX® to deck out little feet and to keep them cosy warm even in the most adverse conditions. That comes primarily from the fleecy soft GORE-TEX® Partelana lining.
"Fatina" in Italian actually is a term for a good fairy. And it's clear on very glance that this new winter boot for little girls totally fulfils this task 100 per cent. On the outside, there is protection from the elements from the durable split leather, whilst the shaft has extra padding with its bicolour canvas fabric. Equipped with a waterproof GORE-TEX® membrane, these boots keep feet warm and dry even in cold, wet weather.
Not only the direct injection-moulded and superbly cushioned PU midsole, but also the practical Velcro®-closures and the elastic lacing system for quick on and off promise top comfort. To make sure all the girlfriends also like how they look, decorative seam stitching has been added to numerous seams plus there are bicolour laces.
Even a fairy should never neglect protective footwear even on urban adventures. So, it's recommended to pull the warm FATINA GTX® right onto little feet. That goes faster than imagined, too and, to top it all off, this light multifunctional shoe also looks great. Really, the ideal choice for magical adventures.
Size: EU 25 – 35, 36 – 40
Weight per pair (EU 31): 480 g.