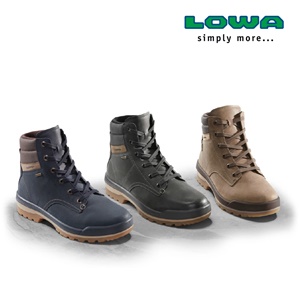 When the Scandinavians head out in wintry temperatures, what it truly comes down to in first order is the right footwear. And what is good for the northern latitudes, must also impress on cold and wet autumn days in these parts too. Such as the new HELSINKI GTX®. As a nicely stylish transitional solution for the winter, it ensures a sensation, but not only in urban areas.
When it's dreary, wet and chilly outside, that's when this casual MID-CUT boot makes its big appearance – be in the city or outdoors. The waxed leather in combination with the 100 per cent waterproof GORE-TEX® lining ensures reliable protection from wind and weather. You get stylish accents for the wintry monotony from the high-cut shaft with waxed fabric, decorative seam stitching, and the casual derby cut. And when it comes to fit, comfort and grip this autumn boot knows what it's all about. A contrasting TPU outsole ensures superior support, and a PU midsole provides needed cushioning on hard asphalt so even a long city stroll can be a relaxed shopping outing.
A winter boot doesn't have to be just a winter boot when temperatures slow by slow sink to their lowest lows. A casual eye-catcher such as the HELSINKI GTX® can also show its stuff in urban areas. That makes these mid-calf trendsetters the perfect choice for everyday wear in every sense – not too warm, splendidly comfortable, and utterly lightweight too.
Size: UK 6.5 – 13, 14
Weight per pair (UK 8): 1000 g