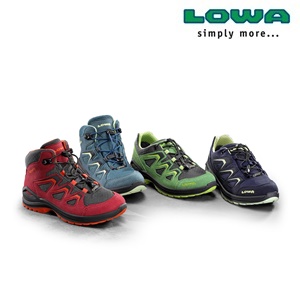 When kids, spontaneity and multifunctional footwear come together, that can only result in an unplanned adventure. It's a good thing, then, because when little feet don't want to only do a lap of the playground, the super comfy INNOX EVO GTX® JUNIOR will turn into a best friend straightaway.
Since kids as a rule don't like at all to be held down, don't miss your chance with these versatile multifunctional shoes. Everything is possible
with these extremely lightweight, comfortable all-rounders. In any weather. The upper has softer padding than in traditional kids' shoes,
and with the LOWA Enduro Junior Sole they offer reliable support on any terrain. For additional stability, the innovative MONOWRAP® technology steps in. In combination with an especially breathable, waterproof blend of materials, including a GORE-TEX® membrane, you now know that any diversion into the unknown won't be the exception but as of now will be the rule.
Surprisingly flexible, the INNOX EVO GTX® JUNIOR is ready for any unplanned challenges and conquers any and all with total ease. Of
course, it's also then difficult to precisely determine where this sporty kids' shoe should be used. But where there's a will, there's a way … and appropriate terrain too!