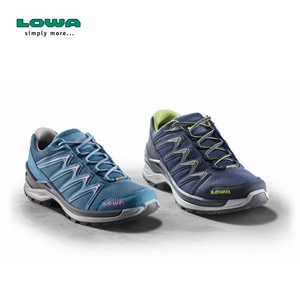 When spontaneity and multi-functional boots come together, the result is the perfect companion for every type of adventure. This is exactly what happened with the new INNOX PRO GTX® LO Ws and INNOX PRO GTX® LO, which, just like the MID-CUT model, completely meet the high demands of outdoor athletes. Incredibly comfortable, lightweight and breathable, this highly functional leisure-time shoe sets standards and creates visual accents – during strolls through town or on hikes in the country.
Thanks solely to their appearance, the athletic genes of the mid-cut models are obvious to anyone who sees the footwear. The flexible multi-functional boots are made of a robust mix of synthetic materials that can handle every movement and will provide this highest level of comfort. While the directly injected midsole made of LOWA DynaPU® provides optimal cushioning, the innovative LOWA MONOWRAP® frame and the Soft Stabilizer lend support to the mid-foot during every step. The tightly meshed upper material with the stitched-on frame elements also increases lateral support. The breathable and waterproof GORE-TEX®
lining ensures that the wearer's feet always stay dry when the weather turns nasty and do not start to sweat during challenging hikes across terrain.
The multi-functional and colourful models INNOX PRO GTX® LO Ws and INNOX PRO GTX® LO create the impression of being in motion even when they are standing still. The athletic and incredibly light multitalented footwear may not be your shoe of choice if you simply want to spend the day sitting on a park bench. The all-round footwear actually spurs people to get moving and are the best way to overcome laziness.
Size: Ws UK 3.5 – 9 | UK 6.5 – 13
Weight per pair: Ws (UK 5) 690 g | (UK 8) 800 g.