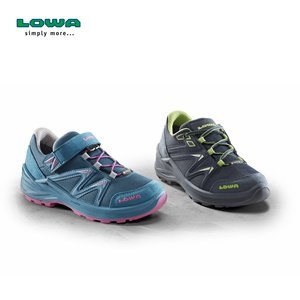 When children's passion for adventure combines forces with waterproof multi-functional shoes, there can be just one result: a perfect child's shoe. Because children like to follow in the footsteps of their adult role models, a sporty low-cut model for small feet that is based on the version for grown-ups has now been
produced. Extremely comfortable, lightweight and breathable, the INNOX PRO GTX® LO that comes with either Velcro® closure or a lace-up system sets new standards for children who want to playfully conquer the world – either in the country or in the city.
Children like to keep their options open. And why not? Particularly if they can easily reach their destinations with the new INNOX PRO GTX® LO VCR or INNOX PRO GTX® LO LACING. The lightweight low-cut shoe is made of a robust synthetic material that flexibly encloses the foot and provides reliable moisture protection with the help of a GORE-TEX® lining. Child-friendly details also ensure that the flexible all-rounder is up for every adventure and does not restrict a child's freedom of movement in any way. Thanks to LOWA DynaPU®, the directly injected midsole is flexible enough to facilitate natural rolling properties, offer
optimal cushioning and stabilise sensitive joints with the help of the LOWA MONOWRAP® frame. One special practical feature: Small adventurers can put on and take off shoes sized EU23 to EU35 by using a Velcro fastening system. A lacing system is used for shoes sized EU36 to EU42.
The colourful multi-talented shoe for kids is surprisingly flexible. The new INNOX PRO GTX® LO VCR or INNOX PRO GTX® LO LACING is the perfect playmate for children who are out to conquer to world. This truly lightweight and flexible low-cut shoe is up for every challenge that is thrown its way. As a result, it is virtually impossible to define, even roughly, the range of uses for this low-cut all-rounder. Children will certainly come up with something new for them over and over again.
Size: VCR EU 23 – 35, 36 – 37 | LACING EU 34 – 35, 36 – 40, 41 – 42
Weight per pair: VCR (EU 31) 410 g | LACING (EU 31) 420 g.