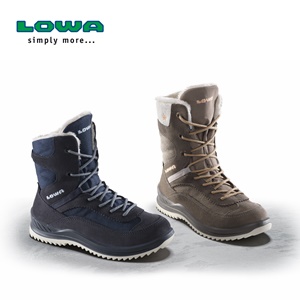 THE BIG KIDS AMONG SMALL WINTER SHOES.
Here's to cosy GORE-TEX-Partelana linings and the practical lacing eyelets of the two winter shoes ELLA GTX and EMMA GTX.
They make the small, but crucial difference when it's time to head out into the snow. These shoes are a snap to put on thanks to the side zipper, and their functional material mix provides the highest levels of comfort. To ensure that small ice princesses always have good support, the saw-tooth profile of the outsole
literally bites into the ground.
The multifunctional qualities of both winter shoes cannot be denied.
The flexible winter boots are made of a robust material mix consisting of fabric and full-grain leather that facilitates every movement and offers maximum comfort. The directly injected midsole also offers optimal cushioning on frozen turf. The breathable, waterproof GORE-TEX Partelana lining permanently creates an optimal climate in the shoe, ensuring that the wearer's feet remain warm and dry even during freezing weather. Because small ladies are interested in something more than functionality, the shoes sport an extravagant look.
The two models ELLA GTX and EMMA GTX are multifunctional and colourful. As a result, the lightweight multitalents are perfect for the very next adventure out in the snow. And they have no reason to be shy about the way that they look on the way there. Thanks to the stylish design, these fashionable winter boots are something beautiful to see – in every type of weather.
Size: EU 25 – 35 | EU 36 – 40
Weight per pair (EU 31): 540 g | 520 g.