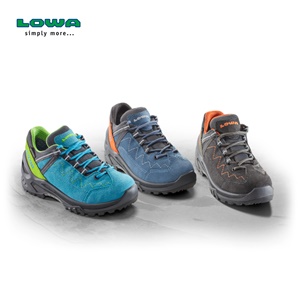 Parents should make no compromises when it comes to the fit of their children's shoes. Dr Micha Bahr, a specialist in children's surgery and manual medicine, deeply believes in this principle. As a result, he has worked with LOWA again to develop the LEDRO GTX® LO JUNIOR. The concept used in the MID-CUT version was so popular among kids that the company had to take the next step and create a low-cut model as well. The new model is equal to its predecessor in every way.
The LEDRO GTX® LO JUNIOR, a shoe specially developed for children's feet, meets each of the criteria set by Dr Bahr. These include optimal rolling properties, perfect ankle stabilisation provided by the LOWA MONOWRAP® frame and plenty of room for a child's toes. Ultimately, everything boils down to an all-encompassing fit that meets children's needs. Unlike adults, the musculoskeletal system of children is still growing and remains malleable. Children's ligaments are also softer and require the shoe to provide optimal support while not restricting their ability to move about. The shoe's soles should not be too soft. They also must be as warp resistant as possible. This is why the LEDRO GTX® LO JUNIOR uses a Soft Stabiliser in the midfoot area. Robust fabric combined with waterproof GORE-TEX® lining provides perfect weather protection. The high-grip LOWA rubber soles ensure that children always keep their feet on the ground while they romp around.
But the quality of child's shoe does not depend on the opinion of experts. The ultimate standard is what small adventurers really enjoy. After all, a child has to like a shoe before he or she will wear it. This is not a problem
for the new LEDRO GTX® LO JUNIOR, which not only fits incredibly well, but also looks pretty cool.
Size: EU 25 – 35 | 36 – 40 | 41 – 42
Weight per pair (EU 31): 430 g.