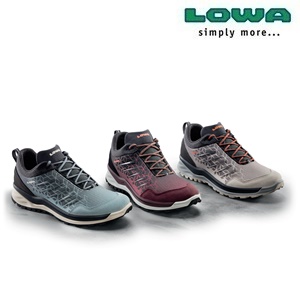 The INNOX by LOWA set a milestone when it comes to athletic multifunctional footwear. And now the new all-round model LYNNOX LO will push that just a few more centimetres further.
No wonder that this cushioning miracle add another portion of functionality whilst it also loses some weight. Even with all that, the shoe offers increased stability and top comfort so it is quite a hit on any terrain.
Comfortable, optimally cushioned and lightweight – that sums up the key features of dynamic multifunctional footwear. The lines between individual activities are becoming more and more blurred, precisely because these athletic leisure shoes can be used everywhere, all the time. In particular, the LOW-CUT boot plays out its strengths during sports in nature. This is where the innovative LOWA MONOWRAP® construction combined with a fabric upper and reinforcing TPU prints ensure optimum stability. On the other hand, energy saving and cushioning is what you get from the natural rebound effect of the two-layer LOWA DynaPU® midsole. It offers a particularly direct-to-the-ground foot placement and enables incredible forward motion. The one-piece fabric upper and the TPU reinforcements featured in this model make them reliable companions for any occasion.
Whether in the city, on the mountain or anywhere in between, the multifunctional model LYNNOX LO is far from just a compromise. Much more than that, it's a comfortable outdoor boot and a shoe that is the perfect combination of performance-oriented outdoor specialist and comfortable leisure wear sneaker that is a must on any adventure.