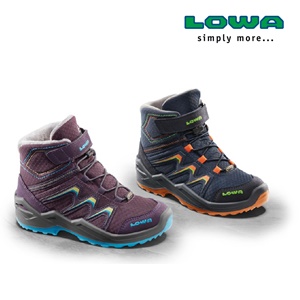 When the first snow is falling outside, kids can't get out into it enough. Lucky for us, the new MADDOX WARM GTX® is ready at a moment's notice to take part in any adventure. To ensure all of the fun doesn't come up short in icy cold temperatures, little feet will stay warm in these boots with their durable synthetic fabric and waterproof GORE-TEX® Partelana lining to keep them consistently warm and dry.
What is a favourite in the summer, should also be a fantastically big seller in winter too for the kids. At least the sporty design and dynamic colours wouldn't lend any doubts whatsoever. Still, these superlight winter boots will be able to guarantee utmost joy: Kids can pull them on quickly with the Velcro® straps and elastic laces on this MID-CUT Model. They also feature a practical Speed Lacing system. The elastic laces can be shortened as desired, so little feet don't get slipped up even when they are moving quickly. Additional stability also comes from the insulating, direct injection-moulded PU midsole, the innovative LOWA MONOWRAP® technology and the grippy LOWA Kids Winter Trac® outsole. The breathable GORE-TEX® membrane always manages temperature in the shoe superbly in any weather. That ensures feet have plenty of wiggle room at all times even with the robust fabric and its lateral reinforcements.
These super comfy winter boots are just the right playmate for cold, wet seasons. Of course, the MADDOX WARM GTX® gets along fine with any puddles, sleet, mush or any wet mix. No wonder that kids will be begging to spend the entire day outside this winter. Because starting now killjoys are a thing of the past since no one will want to spend the day at home because of cold feet.
Size: EU 23 – 35, 36 – 40
Weight per pair (EU 31): 470 g.