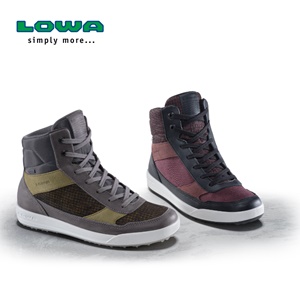 THE PERFECT CHOICE WHEN THE WEATHER CANNOT MAKE UP ITS MIND.

The MOENA GTX Ws is your shoe of choice for those times when it is not cold enough for winter boots. As an optimal companion for transition periods, these mid-cut sneakers have everything you need to take on unpredictable weather – a waterproof and breathable GORE-TEX membrane, a high-grip sole and a look that suits any occasion.
The new MOENA GTX Ws is anything but a classic transition shoe. Unlike such tradition footwear designed for the wet and cold season of the year, the modern concept combines the best of two worlds. The directly injected midsole made of LOWA DynaPU® delivers optimal comfort and good rolling properties. The functional material mix made of smooth leather and stitched fabric also does its part to create perfect comfort in the shoe. But the unlined leisure-time sneakers will impress you not just with their functional features. The new design patch on the shoe's tongue, the discreet logo embossing and the trendy canvas look will also capture your attention.
The MOENA GTX Ws is the perfect mix of leisure-time and outdoor footwear. The range of colour variations that were consciously selected to reflect the natural shades of spring and autumn creates the ideal look. The stylish lifestyle sneakers are far from flamboyant, but they do add a splash of colour to the dreary grey days of winter.
Size: UK 3.5 – 9
Weight per pair (UK 5): 610g.