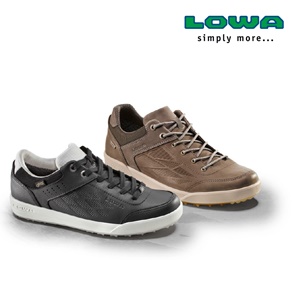 Oakland is a nice city in California. Fitting the moniker "Golden State" (California's motto), one could also see the new OAKLAND GTX® Ws and OAKLAND GTX® as paying homage to the golden days of autumn. A lightweight low-cut shoe that will let you explore the San Francisco Bay Area city in the United States quite comfortably. Still, this stylish sneaker will win you over for everyday wear in the city with its functional detailing and maximum comfort.
In order to remain light afoot both in the transitions between seasons and in mild autumn weather, higher cut winter boots aren't as suitable. Ambling along is much more comfortable with this trendy LOW-CUT sneaker through colourful woods and narrow winding alleys and lanes. To that end, this autumn shoe with its casual appearance comes equipped with a long-lasting LOWA Sneaker TPU outsole. To ensure you don't come up short on comfort even on longer ambles, there is also a direct injection-moulded mid-sole made of LOWA DynaPU® to lend needed cushioning at every turn. And if the weather takes an unexpected
turn, the waterproof GORE-TEX® membrane keeps out the cold and any moisture. Nubuck leather, fabric inserts and embossing – functional features are rounded out with stylish accents.
But this doesn't mean a trip to America is needed straight away to break in the new OAKLAND GTX® Ws and OAKLAND GTX® in proper style.
Any short trip to the city or an extended walk through the park will do just fine, thank you. And, with these, globetrotters are finely geared up for their next urban adventure too.
Size: Ws UK 3.5 – 9 | UK 6.5 – 13, 14
Weight per pair Ws (UK 5): 540 g | (UK 8): 680 g