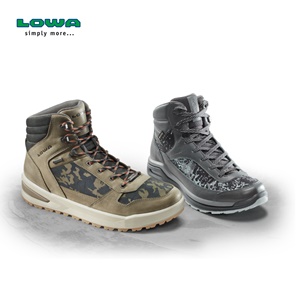 When the best qualities of fashionable leisure-time shoes and functional hiking boots are combined, the result is a casual MID-CUT sneaker from the next generation. It is an urban all-rounder that makes an impression both in the normal course of life and out in the country. Or to put it another way: Anyone who is looking for something new and wants to experience an outdoor adventure or two will definitely not be behind the times by wearing the stylish hybrid shoes LOWA® REVOLT GTX® MID and LOWA® REVOLT GTX® MID Ws.
The new LOWA® REVOLT GTX® MID for young outdoor adventurers takes a completely new approach. As a rule, classic outdoor boots are the footwear of choice for treks into nature. But the modern boot concept dares to do something different and bridge two worlds. With its casual camouflage look, the fashionable sneaker design is primarily aimed at trendsetters who are looking for a comfortable lifestyle shoe that they can wear every day. Once these people leave the hustle and bustle of the non-stop big city behind, the shoe's functional details swing into action: The waterproof GORE-TEX® lining keeps feet reliably dry, and the LOWA MONOWRAP® frame provides the highest level of support and stability. The directly injected midsole made of LOWA DynaPU® also cushions every step and guarantees comfortable rolling properties.
The best of two worlds: Both the male and female versions of the new LOWA® REVOLT GTX® MID and LOWA® REVOLT GTX® MID Ws provide the perfect combination of lifestyle sneaker and hiking boot to trend-conscious young people. The casual leisure-time shoe skilfully goes a step farther and lends a completely new meaning to the term "urban outdoor".
Size: UK 6.5 – 13 | Ws UK 3.5 – 9
Weight per pair: (UK 8) 960 g | Ws (UK 5) 780 g.