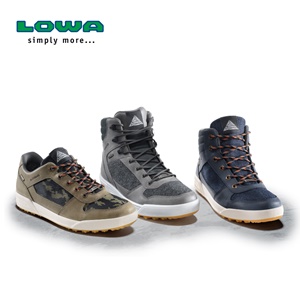 REAL TRENDSETTERS WITH AN ALL-WEATHER FUNCTION.

If you really want to look your best during the transition seasons of the year, you need to look no farther than the models SEATTLE II GTX LO, SEATTLE II GTX MID and SEATTLE II GTX QC. The functional trendsetters come in three different heights and will impress you with their eye-catching design makeover. Thanks to
their waterproof and breathable GORE-TEX Panda lining, the casual lifestyle sneakers are the perfect choice for the city and any type of weather.
These sporty sneakers make a great impression no matter whether you select the flat low-cut shoe, the mid-cut boot or the high-cut leisure shoe. This is ensured in part by the LOWA winter soles with their cushioning midsole made of LOWA DynaPU®. Maximum comfort is also assured by the functional material mix made of robust fabric and smooth-leather elements. The breathable, integrated GORE-TEX membrane will keep your feet dependably dry and pleasantly warm in chilly weather. The trendsetters also look great. The mid-cut SEATTLE II GTX QC and the flat SEATTLE II GTX LO come in a cool denim look or with a casual
camouflage design. The SEATTLE II GTX MID features a hook lacing system and a boot upper trimmed with loden.
When you blend the best qualities of functional outdoor shoes with the comfort of leisure time sneakers, the result is a flexible lifestyle sneaker that has a certain extra. The models SEATTLE II GTX LO, SEATTLE II GTX MID and SEATTLE II GTX QC are something much more than an interim solution for the transition time of year. The light trendsetters have everything it takes to conquer the world outside the city limits as well.
Size: UK 6.5 – 13 | UK 6.5 – 12, 13 | UK 6.5 – 13
Weight per pair (UK 8): 660g | 850g | 710g.