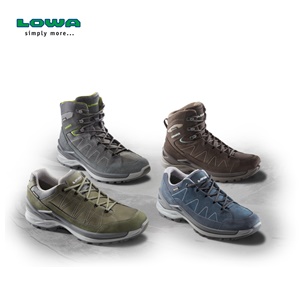 The new multi-functional footwear of the TORO EVO series comes in the widest range of models: as a boot or as a low-cut model with a waterproof GORE-TEX® membrane or leather lining. Either way, the outdoor boot impresses with its exceptional fit and athletic genes – from its robust mix of materials to its high-grip
outsole.
The TORO EVO series is a new version of the proven classic boot in the segment of multi-functional footwear at LOWA. But there is one new difference: The new MID- and LOW-CUT models have a modern derby cut and create eye-catching accents with their contrasting colour fabric lining. But the improvements to the lightweight hiking boots are more than skin deep: A number of new functional details have been added while some weight was removed as well. The patented LOWA MONOWRAP® frame increases stability, and the directly injected midsole made of two PU components provides optimal cushioning every time the wearer takes a step.
Unbelievably comfortable, athletic flexibility and true multi-functionality, LOWA's new TORO EVO series is the perfect companion for everyday adventures. After work or on weekends – these jack-of-all-trades outdoor boots are so comfortable and cosy that a brief stroll can spontaneously turn into a short hike.
Size: LO UK 6 – 12, 13 | LO Ws UK 3.5 – 9
Size: MID UK 6.5 – 13 | MID Ws UK 3.5 – 9
Weight per pair: LO (UK 8) 840 g | LO Ws (UK 5) 730 g
Weight per pair: MID (UK 8) 960 g | MID Ws (UK 5) 830 g
Weight per pair: LL MID (UK 8) 1000 g | LL MID Ws (UK 5) 830 g
Weight per pair: LL LO (UK8) 870 g I LL LO Ws (UK5) 740 g.