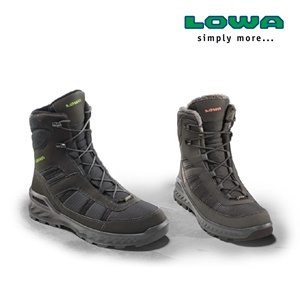 All good things come in threes: That's also what the creators of the new TRIDENT III GTX® and TRIDENT III GTX® Ws likely thought. This classic among functional winter boots is already in its third generation and thus demonstrates impressively this round what it comes down to on cold days – warm toes, ideal
temperature management, and the best grip in every situation.
Even when the talk is about a classic, the TRIDENT III GTX® and TRIDENT III GTX® Ws don't come off as simple classic winter boots in their looks. They remind you much more of the sporty design of a multifunctional shoe in their appearance and less so of a thickly lined insulated piece. That's reason enough to pay especially close attention with this new winter model to its personal qualities. Among those are in particular the high-cut man-made upper with fabric detailing, the stabilising LOWA MONOWRAP® web construction and the warm GORE-TEX® Partelana lining. Too, the exterior details are quite impressive. Above all,
the grippy LOWA Snow Trac® outsole. Thanks to its triangular-shaped tread pattern, it digs into the ground quite securely and won't stand for any slip-ups even on slick surfaces.
Functional, lightweight and breathable – the TRIDENT III GTX® and the TRIDENT III GTX® Ws are anything but a clunky winter boot. Be it an autumn walk on a cold and wet day, a winter hike in deep powder, or simply as a backup for an evening of mulled wine – this lightweight, multifunctional winter model is the perfect companion for all of your outdoor adventures.
Size: UK 6.5 – 12, 13 | Ws UK 4 – 9
Weight per pair (UK 8): 1040 g | Ws (UK 5): 880 g.