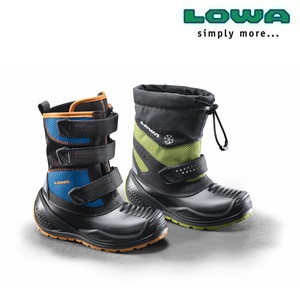 FOR SMALL ADVENTURERS WITH BIG IDEAS

Sizes: 30 – 35 / 36 – 40
Weight per pair (EU 31): 700 g, 800 g
Once the first snow falls, there is simply no holding back the kids anymore. Since it just cannot move fast enough, they can pull their little feet into the comfy winter boots, the TROLL GTX® HI and YETI HI, in mere seconds. The really big secret here is the removable, insulating liner, which can be dried during even a short break without an issue. Then the kids will be off again with a grand leap into the next big winter adventure.
Whether hook-and-loop closure or slip-on, both winter boots will take kid's hearts by storm. Why lose time with laces with you can simply just stick your feet in like with rain boots. These galoshes boots feature an insulating PU rubber outsole that also offers reliable grip when surfaces are slippery underfoot. Combined with warm Thermofleece in the liner,
cold toes are a thing of the past. Even on cold wet autumn days or when snow is starting to thaw, kid's little feet stay totally protected in these waterproof boots. While at the same time, the flexible, breathable upper ensures great temperature management. If a snowball fight turns lively, the durable synthetic fabric will turn the other cheek on the ice cold opponent without a blink.
Snow kings and ice princesses will find a reliable playmate for endless winter fun in the snow with either the TROLL GTX® HI or the YETI HI winter boot. Two kid-friendly marvels of warmth that will even make adults appropriately envious.