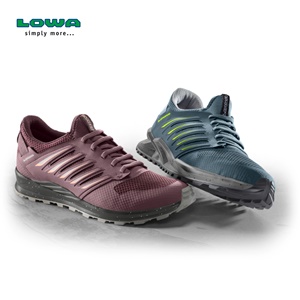 Anyone who is looking to create an athletic impression in their everyday lives or during their next outdoor adventure needs to look no farther than the models VENTO Ws and VENTO. This lightweight footwear offers the best of two worlds: stylish design for everyday use and the best functions for the next hike.
Outdoor fans who also want to make themselves seen in town will fall in love with the perfect combination of athletic boot and casual leisuretime model. With its broad range of functions, the athletically cut multifunctional footwear provides a perfect fit. The unique Heel Fit Strap also does its part to create great comfort. Additional support is provided by the innovative Midfoot Stabiliser Frame, which actively helps to prevent sprained ankles during tours across demanding terrain. To make it much easier for wearers to step into the shoes, the sporty sneaker is equipped with an individually adjustable and elastic lacing system. The LOWA rubber sole provides the best grip on any terrain, while the midsole made of LOWA DynaPU+® delivers an extra boost of comfort with the help of a systematically modified composition of material. The open and breathable fabric material allows fresh air to flow into the shoe, a process that prevents the feet from easily starting to sweat on warm days and remain dry.
The new multi-functional shoes VENTO Ws and VENTO are both athletic and casual, two traits that enable them to provide the highest level of comfort in both everyday and leisure-time uses. The athletic genes of the mid-cut models are obvious to everyone. This functional and athletic footwear will shine in particular in those places where urban life begins to fade away.
Size: Ws UK 3.5 – 9 | UK 6.5 – 13
Weight per pair: Ws (UK 5) 530 g | (UK 8) 650 g.