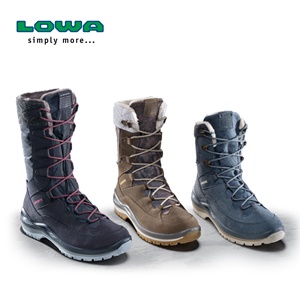 THE MAGIC OF THREE STYLISH WINTER BOOTS.
Size: UK 3.5 – 9
Weight per pair (UK 5): 930g | 850g | 880g.
All good things come in threes: This is certainly the case for the fashionable trendsetters ALBA III GTX Ws, BARINA III GTX Ws and CALCETA III GTX Ws. The third generation of these popular leisure-time models has been given not only a refreshing design makeover, but also a new sole whose stud profile has been optimised to provide improved grip. But many things remain the same, including the tough material used in the boots, the footwear's
light weight and the warm GORE-TEX Partelana lining that keeps the feet warm in cold and wet weather.
This year, women will have double and triple the joy about the arrival of winter. The reason is the optically and functionally reworked winter boots. Their many fashionable details turn them into a true eye-catcher. The robust material mix, a combination of quilted elements made of loden and leather, proves to be too much for the eye to resist. When they are teamed with snug, waterproof GORE-TEX Partelana lining, cold and nasty wet weather does not stand a chance. Thanks to their high-grip sole, the trendy winter boots can be put to work outside the city as well.
The boots' perfect qualities perform exceptionally well in shopping streets, at Christmas markets or during strolls through snow-covered countrysides.
The trendy winter boots ALBA III GTX Ws, BARINA III GTX Ws and CALCETA III GTX Ws come in three different heights. The models ALBA III GTX Ws and BARINA III GTX Ws also have a side zipper that makes it easier to put on and take off the boots.