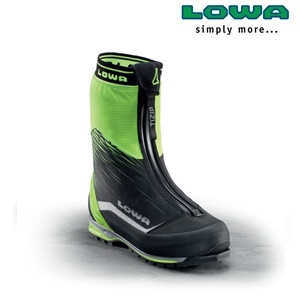 True outdoor athletes know no limits when it comes to alpine adventures and pushing their own limits. If you head out regularly in extreme conditions, you have to be able to rely 100 per cent on your gear in any weather. Certainly ideal when you can conquer without any issues even the most difficult passages over ice and rock in boots with an integrated gaiter like the ALPINE ICE GTX®.
Also fully crampon compatible.
Above 4,000 meters elevation, not only is the air thinner. Indeed, the technical demands for alpine mountaineering boots also increase. There is no room for compromises here. That is one of the reasons why the ALPINE ICE GTX® was developed together with the professional alpinists on the LOWA PRO Team – to ensure fulfilling even the highest demands.
Thus, the completely crampon-compatible mountaineering boot is equipped with a flexible gaiter and waterproof GORE-TEX® membrane to ensure neither snow nor water can penetrate the boot. The highcut scree collar and the upper insulated with PrimaLoft® also ensure optimal protection in extreme weather conditions. The anatomical last contributes to optimum comfort whilst the lower-profile sole construction promises increased control, direct ground contact, and a clearly improved power transfer on rock, ice and snow.
Whether on exposed summit ridges, crossing an icy glacier or climbing on brittle rock, when you have an all-rounder like the ALPINE ICE GTX®, every alpinist can focus on the essentials and move quite nimbly across difficult terrain.