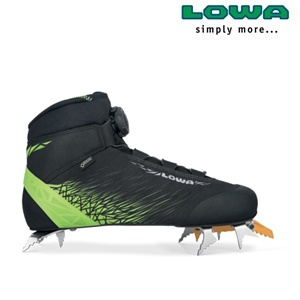 The attraction of a frozen waterfall is not only magical because the glittery natural spectacle is so fragile and short-lived, but also because there is adventure in every centimeter of the thickly frozen sheet. To make sure the challenge is not just a pure question of nerves, the minimalist ice climbing boot ICE ROCKET GTX® with its innovative BOA Closure System® provides that extra dash
of safety.
What is already a challenge for climbing athletes is literally taken to the peak of extremes. The steep flanks of puristic ice demand not only pure arm and leg power, but also technical ability in particular. One characteristic that the extreme slim-cut ice-climbing boot innately brings is its roots from the Performance ROCKET model. In addition to a semi-flexed last, a total of five points on the front and three on the back ensure secure hold and a reliable grip while climbing or hooking. The innovative twist-knob closure on the front foot allows total and optimal fit customization. Its technical refinements were developed with professional alpinists like Ines Papert, Roger Schäli and Rudi Hauser from the LOWA PRO Team and tested on icy high-altitude adventures.
Head out before the route starts to melt again, or so the saying goes in ice climbing. No problem for the ICE ROCKET GTX®. With this boot as your partner you'll be climbing with the maximum in safety at your side.