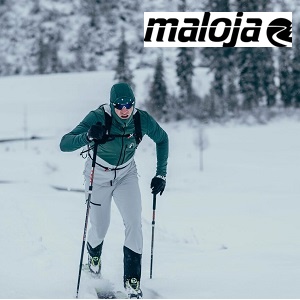 Sometimes our wishes really do come true, like with the JovinM (women's) jacket.
This ski touring jacket is made with three different materials. The entire front panel, shoulders and kidney areas are equipped with Gore-Tex Infinium, which provides protection against wind on descents, but at the same time remains breathable for ascents. The lateral back panels and arms are made of a tough stretch material comprised of 83% recycled nylon which allows for superb mobility. Further increasing mobility and to more effectively transfer heat, the central back panel is made from a lighter mesh material. For ski tourers who enjoy doing more than one ascent and descent on any given day, the jacket have two inner pockets to keep touring skins warm, and if it gets icy cold, the hood features an integrated face mask.
In developing the JovinM it wasn't just our own wishes that influenced the designs, but also feedback from athletes of the German National Ski Mountaineering Team. The ski touring jacket is in fact the preferred training combination and thus the products of choice by our team members who cover thousands of metres in elevation each winter.
Ski Touring Jacket
– Extremely breathable
– Great wind protection
– Not too warm on the ascent
– Freedom of movement
– Extra weather protection over the head
– As light as possible
– Water-resistant in light snowfall
– A mask that protects the face and eases breathing in icy-cold temperatures.