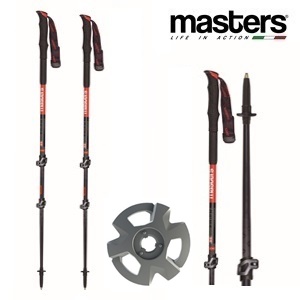 CARRYOVER SS21
For the expert hiker, a stick with high technical characteristics that make it suitable for ultra-strong use.
Made in three sections (ø 18-16-14mm) of CaluTech and AluTech 7075 to offer lightness and guarantee sealing and reliability.
The new Wing Lock locking system is easy to use and favors a comfortable, fast and safe adjustment of the stick.
The closed stick measures 66cm per reach 135cm in maximum extension (110cm the minimum), while the weight per pair is equal to 480gr.
Price: 94.95 euros
TECNOLOGY In addition to the Dolomiti LTD in the Masters house, all the models with the Palm knob that will come will be renewed replaced with the new EVO Strap handrail, an automatic adjustment system, faster and more ergonomic, having removed the buckle.
Automatic Stop System. The handrail, using a unique patented system, guarantees maximum safety and an excellent performance. The handrail is easy to adjust and simple to fix in the correct and more comfortable location. Furthermore, in the event of a fall, the handrail is automatically released releasing the hand and thus avoiding possible trauma to the wrists.