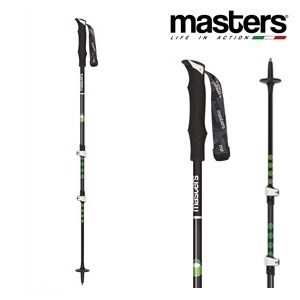 40 years of activity definitely count for something and to its 40th birthday Master dedicates two recent creations: the black wrinkled finish of the MEET model and the white wrinkled finish of the VISION model have a fierce, unmistakable appeal. Handy and user-friendly model, for trekking which is suitable for everyone, but particularly valuable for enthusiasts and experts.
Shafts: aluminium alloy 7075
Sections: 16/14/12mm diameter
Grip: Palmo with the light strap with white finish
Tip: tungsten with screw support (50mm basket can be easily replaced with the 95mm version designed for fresh snow)
Blocking system: Clamper external closing system (in the white version)
Measure: 66cm closed, 135cm maximum extension
Weight: 250 gr./piece.