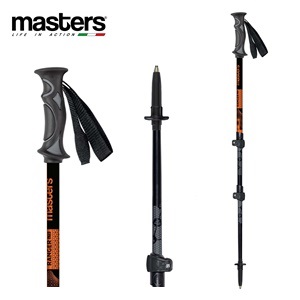 To facilitate the adjustment of the pole even for smaller sizes, Ranger LTD model was introduced, recommended for users tall from 150 cm to 175 cm: in fact, this pole allows an adjustment range from 95 cm to 120 cm (compared to the "brother" Ranger: 115 / 140cm), through the Clamper system in DuPont® plastic to guarantee maximum endurance in all weather conditions.
The small size Alu 5083 sections allow you to be able to count on only 55 cm of space with closed sections. The Tip-Top system for replacing the basket is equipped with a tungsten tip.
The weight of the model piece is 260 grams.