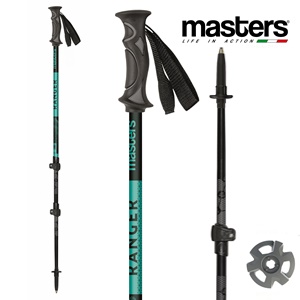 Ranger models are the upgrade to the Masters' Summer collection compared to previous Scout Tour poles. These poles have the best balance between technical features and price, representing a great product for a recreational use. Realized in 3 sections (ø 18-16-14 mm) in Alu 5083, the pole is supplied with T7 bimaterial grip and Dual strap.
The blocking system Clamper is easy to use and it facilitates an easy and quick adjustment of the pole, so as for the new Tip-Top system of the support with carbide tip that is ideal to quickly replace the basket.
Measure: 70 cm closed – 140 cm maximum extension (115 cm the minimum)
Weight: 286g
Equipped with: a pair of top baskets Ø 85 mm.