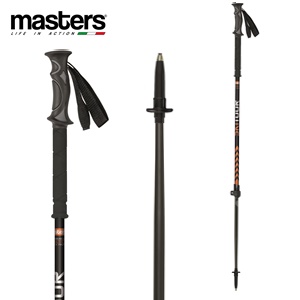 In the Winter 2020/2021 collection, we wanted to dedicate ourselves to the needs of the ski mountaineer: ski mountaineering is the most natural way to "breathe" the mountain, in the effort of the ascent, in the concentration of the descent, all this with the great satisfaction of the reaching the snowy and – very often – immaculate peak.
SKITOUR
Ideal for the user who is approaching ski mountaineering, this model is made of AluTech 7075, like the Skitour Pro range companion, but which differs from this for the bi-material grip and the polyester strap with Automatic Stop system and the external Clamper regulation system.
Assembled in two sections of 16mm and 14mm in diameter, it measures 88cm when closed and reaches from 105cm to 140cm when extended.
The Tip-Top system of the basket and the support (in carbide) completes this model. Piece weight 270gr.