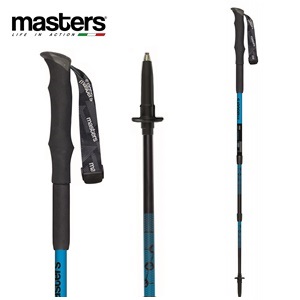 One of the flagships of the Masters collection which has always represented the best compromise between technicality and price, is extended with the introduction of the model in the Calu® version.
This means that Summit Light Calu® is also suitable for expert hikers, as well as for enthusiasts thanks to the upper high-quality shaft, in addition to the lower sections in AluTech 7075 and the extension of the Palmo grip.
The maximum extension of the pole reaches 135cm, while the minimum is 110cm: in closed sections, this model measures 61 cm for 212 grams per piece.
Equipped with a BS expansion system in DuPont® plastic, the best on the market to guarantee the best grip under extreme conditions and a Tip-Top system for replacing the basket, equipped with a tungsten tip.