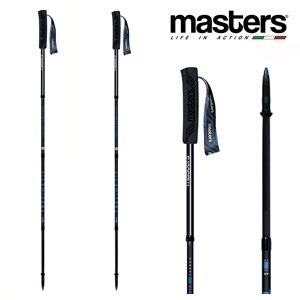 The perfect model for those who want a stick to measure, foldable and light.
In 4 sections, the tubes are respectively: ø 14mm x 1pc 100% carbon, ø 12mm x 2pc in CaluTech, ø 12mm x 1pc in AluTech 7075 and the fixing system of the first section is Push-Pull.
The other sections are connected by a strong rope that can be tensioned through a screw regulation system.
The Falco knob in the new black finish, the soft and particularly light handrail and the threaded support with tungsten tip, fixed to the aluminum support anodized, complete the high technical characteristics of the Trecime Fix.
The weight per pair is equal to 301 grams in the 100cm size.
Price: 129.95 euros
TECNOLOGY:  in addition to the Dolomiti LTD in the Masters house, all the models with the Palm knob that will come will be renewed replaced with the new EVO Strap handrail, an automatic adjustment system, faster and more ergonomic, having removed the buckle.
Automatic Stop System: the handrail, using a unique patented system, guarantees maximum safety and an excellent performance. The handrail is easy to adjust and simple to fix in the correct and more comfortable location. Furthermore, in the event of a fall, the handrail is automatically released releasing the hand and thus avoiding possible trauma to the wrists.