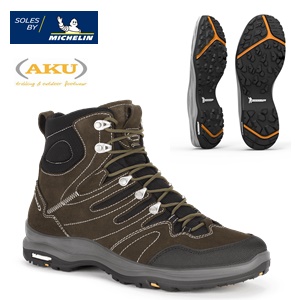 AKU has entrusted Michelin with the development of the sole for its 2 models La Val and Montera trekking boots.
The project with AKU certifies the importance of co-design between the brand and Michelin in making footwear designed to accommodate and emphasise the particularities and technologies of the partner company. Michelin, in fact, managed to design the sole by integrating the existing Aku Elica system – Natural Stride System – which, with an asymmetrical area of contact with the ground, aligns the walking axis in a completely natural way.
The inspiration for the Pulsar sole comes from all-round mountain bike tyres, suitable for all types of terrain, thanks also to the deep grooves which increase adaptability to different types of surfaces.