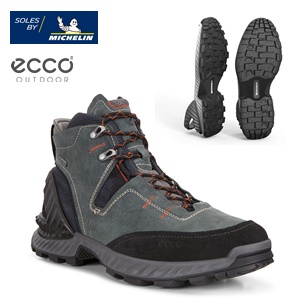 The partnership with the Danish giant ECCO, which began last year, is growing and has been strengthened with the new Exohike project.
Presented in two versions for men and women, the new addition to the SS20 Collection is equipped with the innovative Michelin sole and tread inspired by the MICHELIN Wild mountain bike tyre range.
"Wild": this is what ECCO requested. The company wanted a sole that could offer excellent traction and grip on different types of terrain and excellent foot stability on different surfaces. The tread blocks are therefore extremely strong and important in the toe and heel area and the groove design increases lateral control while the
rear tread blocks help control downward movement. The midsole is made of PHORENE™, a material that makes the shoe lighter and softer, and provides greater comfort and absorbency, while the upper is made of leather produced directly in ECCO tanneries. The Exohike project has been successfully completed thanks to close collaboration between the respective R&D departments, which has made possible the development of two different soles optimised for the specific walking of men and women. The Man and Woman versions, in fact, have the same tread but differ from each other in terms of the support built inside the midsole which follows the anatomical shape of the female foot compared to that of the male foot. A new successful breakthrough from ECCO and Michelin.