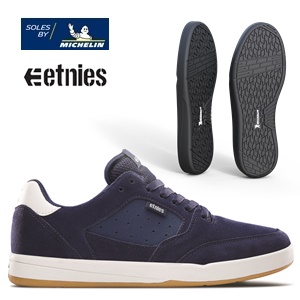 The perfect shoe for all sakes enthusiasts! The Veer model by etnies is equipped by the Michelin outsole and is a perfect mixture of style and performance. With an elegant and aerodynamic look, this shoe is endowed of a padded tongue and lining to ensure a perfect and safe fit.
Comfortable, flexible and resistant, The Veer model is provided with a rubber  outsole, inspired by the Michelin tires. The particular structure of the tread has been specifically designed in order to improve the adherence on wet and slippery surfaces.
The woven design, furthermore, increases flexibility. In the plantar arch zone there are some ribs to improve the support. This specific compound is made on purpose to face all different kinds of outdoor situations. The EVA insole improves resistance and adherence.