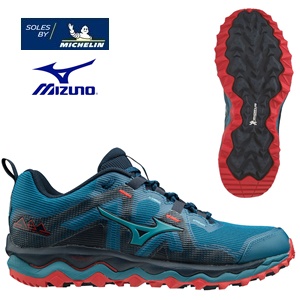 The new Wave Mujin 6 is made for the most demanding trail runner who is always searching for the maximum performance.
The model has been completely renewed for this new season.
Thanks to the XtaGrip technology and to the innovative and exclusive rubber from soles by MICHELIN – extremely resistant and performing – the shoe is easily adaptable to every kind of ground. The shoe guarantees extreme grip in every condition. The aggressive tread design, on the toe level, offers more traction in the thrust phase and the massive sculptures on the shoulder area increase the grip in the descending phase. The blocks have different base sizes in order to ensure greater stability.
The texture is inspired by the MICHELIN JET XCR, and has been studied in order to have a larger contact surface when changing direction. A perfect example of high performance and comfort together with a fluid support, thanks to the Mizuno Wave plate.