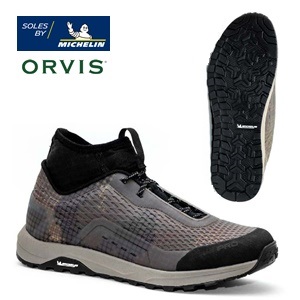 The new PRO Approach Shoe with soles by Michelin has been designed for long walks on wet and slippery paths, or on particular surfaces, such as boats.
The Michelin rubber sole, inspired by Michelin tires, offers exceptional traction on wet terrains, ensuring 43% better grip on rocks, slippery paths and during navigation. Tom Rosenbauer – PRO Approach Shoe Field Tester – after testing the PRO Approach Shoe for long hours of fishing, has defined the sole of this shoe as THE BEST, comparing its traction to spiked soles. The mesh upper, with PU cage ensures the elimination of water, whilst the ariaprene integrated sock prevents debris from entering the shoe and protects the ankle. The shoe (weighs only 23 oz but at the same time is very resistant, thanks to the scratch-resistant rubber on the toe cap and a protective cover on the laces to avoid rips and abrasions.
The removable Ortholite X-25 3D insole also guarantees maximum support and comfort. Retail Price: $ 149.