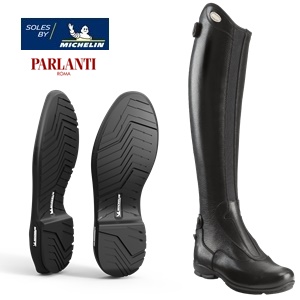 The KK-Boot by Parlanti is an exceptional riding boot, perfect for every riding activity, including jumping.
The upper is made by hand in buffalo leather, tanned in Italy, which guarantees a "touch & feel" without equal. The most stressed elements of the foot are made in leather, respecting the principles of the Italian footwear industry tradition. The leg and foot are folded with leather. In addition also a double elastic band and a back zipper YKK®.
The Michelin outsole ensures performance, durability, flexibility and adaptability. The peculiar design of the outsole is inspired by the Michelin tires and allows adaptability to every kind of terrain, in every weather condition. The deep grooves in in the centre allow the boot not to be damaged inside the brackets, while the lateral ones ensure flexibility. The inner grooves in the forefoot area offer versatility. The insole, made of an anatomical gel, ensures the maximum stability in every situation.
This model is unisex and is available in black, dark brown, grey, blue and leather.