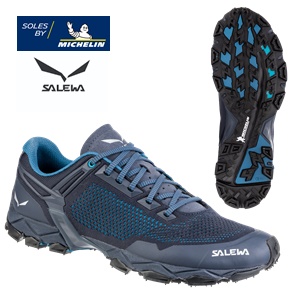 The Salewa Lite Train K model equipped with a Michelin outsole is a highly technical lightweight and performing speed walking shoe with an exceptional grip The Michelin outsole, inspired by the tires of the Michelin company, guarantees perfect traction on any kind of terrain, even on the most rugged and difficult ones.
The particular design of the tread on the side and front area, with "empty" dowels ensures traction, flexibility, grip, perfect self-cleaning and control during the slope-crossing. The strong lateral sculpture increases the grip while the reinforced dowels offer an excellent braking even on the steepest slopes.
The upper mesh is breathable and extremely light. In the front area the flexible longitudinal grooves ensure excellent adaptability on different types of surface. The lateral area presents an anti- twist structure and a support for the plantar arch.