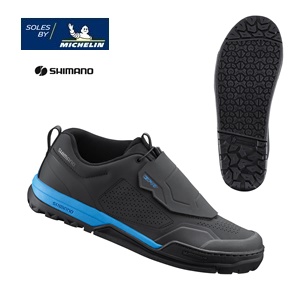 The GR9 is a premier downhill/enduro shoe for flat pedals with superb grip, enhanced protection, and walkability.
The flat sole, designed by MICHELIN, has been developed to meet the specific needs of the Japanese brand Shimano and is designed to maintain exceptional grip in any condition. The new compound guarantees excellent traction both on the pedal and on the ground. A unique and exclusive structure design gives more support and durability in the heel area and added stability on the pedals thanks to a low- profile structure in the central part of the outsole. Extra protection at the front of the shoe is also useful during the most aggressive descents. The upper, absorbs less water, dries quickly. and has an asymmetrically raised padded ankle collar and a speed lacing system allows for faster adjustments.
These shoes are available in black and navy.