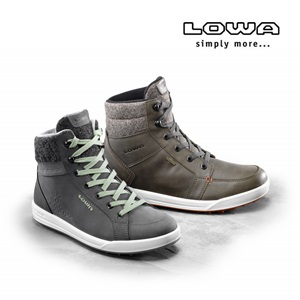 A boot for the change in seasons. But so much more than an interim solution.

Weather during the change in seasons from autumn to winter can be wet, cold and unpleasant. It is still too warm for winter boots and those stylish leisure shoes? Don't even dare go out in the icy cold. It's a good thing when an interim solution such as the MOLVENO GTX® MID or the TORTONA GTX® MID Ws can be worn for a longer period of time. And also excellent that they are impressive both aesthetically and functionally – no matter what the weather.
For the season between autumn and winter, we warmly recommend both mid-cut boots with a sneaker aesthetic. Why? Because with the GTX® Panda lining, feet can still breathe easily on sunny autumn days. Yet they always stay warm and dry even when it's wet and cold out thanks to a robust upper made of either durable smooth or nubuck leather. These performance boots can also be totally fashionable. Fine detailing such as embossing and decorative stitching underscores the stylish yet casual look. And to ensure nothing gets in the way of your big appearance, even on slippery surfaces, these boots have a grippy Winter Sneaker Sole from LOWA that gives you perfect traction.
That makes both the LOWA MOLVENO GTX® MID and the TORTONA GTX® MID Ws perfect solutions for fashion-conscious men and women who like to make a fashion statement even if the weather is unpredictable.