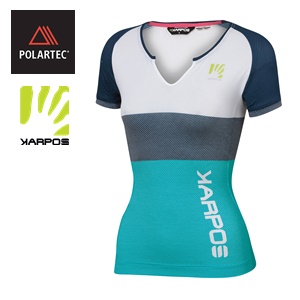 Cool and dry, the Moved Evo Jersey allows you to face conditions of even intense heat while running or hiking in the mountains.
Made with Polartec® Delta with a two-color mesh design, this fabric helpsmaintain a constantbody temperature even during intense heat. The sleeves are made with a highly breathableultralightweight fabric that dries quickly. Very soft to the touch for total comfort during physicalactivity. Polygiene® treatment prevents the growth of microorganisms such as bacteria andfungi that cause unpleasant odors.
FEATURES:
Printed on body of jersey
Trim on neckline
Polygiene® treatment.