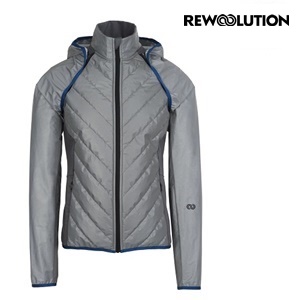 Rewoolution creates a revolutionary concept of activewear, dedicated to athletes, professionals and mountain and outdoor enthusiasts; for those seeking an authentic meeting with nature and the excitement of outdoor sports.
Rewoolution apparel is created from the convergence of innovation, technology and Made in Italy traditions and is designed to foster the experience of an authentic immersion in nature. Each Rewoolution garment is produced with full respect for the environment and its journey is completely traceable: from farms in New Zealand where the sheeps (whose wool is used) are
raised to the manufacturing facilities where raw materials are processed, each step is scrupulously monitored.
All Rewoolution's garments are made of a 100% natural fiber that is biodegradable, high-performing and completely environment-friendly. Each product is lightweight, anti-bacterial, anti-odor and dries immediately. Additionally, the fiber's elevated breathability ensures proper thermoregulation.
NEPTUNE
Gilet with removable cover-up shell.
Made of Reda Active Merino Punto Roma fabric, ultralight reflex Nylon, quilted to Thermo-Padding in Recycled Polyester, lined by Sensitive Fabrics.