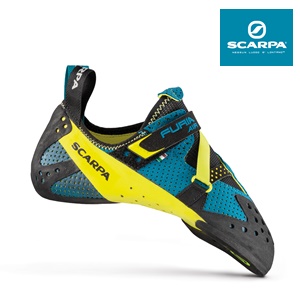 SCARPA® Furia Air, the maximum expression of sensitivity and lightness.The cutting edge design and the combination of innovative materials result in a climbing shoe that enables total freedom of foot movement.
The outer part of the double layer Microfibre upper is perforated to increase softness and breathability. The Alcantara insert under the big toe area amplifies the technical and sensorial performance allowing the imprint of individual toe shapes.
A differentiated tension system on the medial and lateral sides of the shoe, DTS (Differentiated Tension System) adapts perfectly to the dynamics of the foot in motion and concentrates power to the big toe. A minimalistic midsole increases frontal edging power without reducing sensitivity. The innovative tension absorbing heel construction, PAF (Power Absorbing Fit), offers secure fit and adaptability. 
CHARACTERISTICS
UPPER: double layer Microfibre, with the external part perforated. Alcantara insert under the big toe area. The Wave Closure System keeps the upper firmly on the foot while in motion. Stretch gusset allows easy entry. 
MIDSOLE: 1.1 mm Flexan insert supports the Flexor hallucis brevis muscle and increases precision. 
TENSIONING: the DTS tension system functions in combination with the new minimalist SRT system and the PAF heel construction resulting in a highly dynamic and elasticized overall tension. These systems keep the original shape of the shoe for the life of the shoe. 
SOLE: 1/4 length outsole in Vibram XS Grip 2, 3mm, heel covered with XS GRIP 2, 2mm.
Color: Yellow/Black/Vivid Blue
Sizes: 34-45 (including half sizes)
Weight: 150 g (half pair size 40.5).