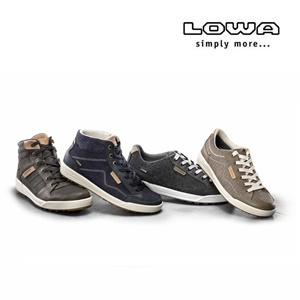 No need to chase after fashion trends.
Anyone who asserts that an outdoor boot specialist has no idea about being on-trend for everyday wear is no doubt barking up the wrong tree. Because what wins you over on the hiking trail can … no … must also perform when you head out shopping. Look no further for the best proof of that than the sneaker models SEATTLE GTX® QC, MAINE GTX® QC Ws, BOSTON GTX® LO and MAINE GTX® LO Ws.
What has already been proven will also leave its mark in the future. That's why LOWA knowingly relies on its longtime expertise in the outdoor sports segment even with these cool leisurewear sneakers. Indeed, whilst the naturally rugged outdoor look can be taken as a homage to its own roots, the classic Derby shoe design is in step with today's fashion trends. Be it the low-cut shoe or the higher-cut quarter cut version, a functional material blend of lightly waxed canvas, denim, and full-grain leather ensures the best weather protection in all models. Already unquestionably comfortable, the product's comfort has been upped even more with the special Sneaker Sole from LOWA. But no detail was saved when it comes to style. The upper of the women's product has contrasting inserts of soft tweed whilst the men's has durable loden wool. That makes these hip trendsetters the perfect example of how traditional craftmanship can continually be reinvented without neglecting established values in the process.
The fashionable leisurewear models LOWA SEATTLE GTX® QC, MAINE GTX® QC Ws, BOSTON GTX® LO and MAINE GTX® LO Ws will attract attention wherever they go. In contrast to what is normal for sneakers, these singular models not only ensure you are wearing a stylish eye-catcher. Their performance will also earn envious looks in wet, cold weather conditions since they keep your feet reliably warm and dry.