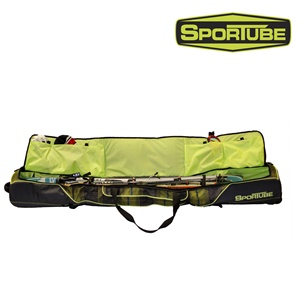 This year we have taken our original Ski Shield bag and tailored it to better meet the needs of ski racers and nordic skiers who are looking for as much protection as a soft bag can offer.
The bag had originally come in a length of 190 cm and we are now offering the same great bag in a 212 cm length. The Ski Shield has the capacity to hold two or three pairs of any type of skis as well as other gear, and/or two snowboards with bindings attached. The bag is fully airline and check-in compliant, and features extra protective Gear Shield™ technology, which is a hard plastic sheathing at either end wrapped in foam padding to keep gear protected during travel.
The Ski Shield comes in a choice of six different colors: Green/Black, Orange/Black, Blue/Black, Green Plaid, Blue Camo, and Paisley.